Chatbots push salespeople and marketers past the physical limitations of being human: our need to sleep, our loathe of repetitive tasks, our inability to multitask conversations.
Modern-day chatbots, like our recently launched Custom Bots, are completely customizable and can automate all sorts of user journeys, while maintaining a positive consumer experience.
For instance, instead of spending weeks and months trying to book a meeting with that big-name visitor who once visited your website, why not have a chatbot automatically engage with all qualified visitors and schedule meetings while they're on your site? Instead of spamming leads with a list of all your products, why not have a chatbot deliver a personalized recommendation?
The sky's the limit with how you customize a bot for your website, and with Custom Bots all it takes is an idea and a few minutes.
But sometimes the hardest part is starting with a blank canvas. That's why we've collected six essential chatbot recipes for capturing and converting more leads, to help you get started:
---
Qualification bot – connect with the right leads
Level: Easy
Time to launch: 10 minutes
Impact (out of 5 🤖): 🤖🤖🤖🤖🤖
Ingredients:

When a visitor first hits your site, their interest in learning about you is at its peak. Not 20 minutes and 20 websites later. But not every website visitor is worth your time. This chatbot integrates with a business intelligence tool like Clearbit and automatically filters relevant visitors who fit your target audience profile. It then sends the visitor to the best team to help, whether that's sales, support, or self-serve. Automating this simple question reduced our SDR team's inbox by 50%!
Out of office bot – capture leads 24/7
Level: Easy
Time to launch: 15 minutes
Impact: 🤖🤖🤖🤖
Ingredients:
Give yourself a break! With this bot, you can capture leads 24/7 whether you're fast asleep or snorkeling in Aruba. You can also schedule this bot to trigger at certain times and frequencies if you know when you'll be offline, or set it to only trigger for high-value leads through our Clearbit integration.
When this chatbot gets triggered, a visitor is prompted to leave a message or continue browsing. Either way, the visitor is tagged as a lead if they interact with the bot. Why? Many chatbots treat those who are "just browsing" as Dead on Arrival and send them through a maze of more FAQs and dead ends. We always encourage companies to provide these leads with something of value, such as a piece of high-quality, ungated content. And then get out of their way, so they can keep browsing, while leaving your door open for a message. Just because they're not super engaged now doesn't mean they won't be later.
Product recommendation bot – increase first-time purchases
Level: Moderate
Time to launch: 15 minutes
Impact: 🤖🤖🤖🤖
Ingredients:
The best time to deliver a personalized recommendation is when a visitor is on your site. No matter how simple or beautiful your website, there's always cognitive overload for website visitors to figure out if your product is right for them. Too much time. The truth is, if they don't find what they need, they'll get bored, leave and never return.
Nothing beats a 1:1 conversation with a human when it comes to getting a personalized product recommendations, but our Product Recommendation bot comes close. In Intercom, it only takes minutes to build.
You can set up this chatbot to deliver a personalized recommendation after answering just a few simple questions. Here's an example for a book startup: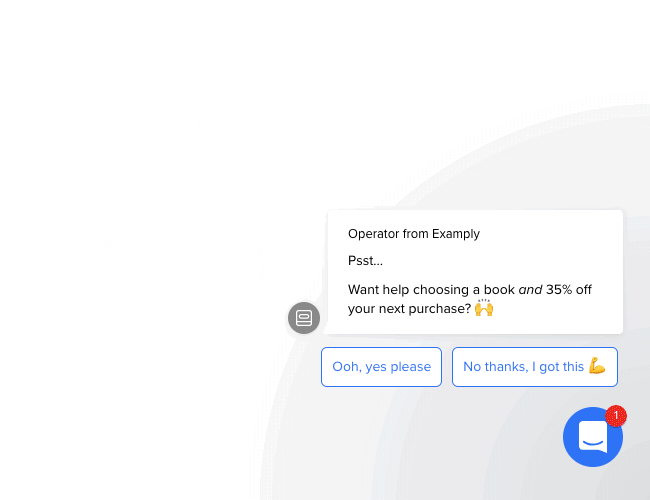 Pricing Page bot – capture your highest-intent visitors
Level: Moderate
Time to launch: 15 minutes
Impact: 🤖🤖🤖🤖🤖
Ingredients:
Based on our own experience, the single most impactful place to target high-intent visitors is your pricing page. After all, this page attracts your most high-intent visitors, or those interested in buying your product.
Pricing Page Bot
It's also a perfect place to add a chatbot. With Intercom you can easily build a custom bot to proactively reach out to visitors here and guide them to the right next step, whether it's connecting them to a sales rep, scheduling a demo, and more.
Because pricing pages are usually high-converting ones, it's tempting to dial up your chatbot's aggressiveness in chatting with leads on this page? Don't. Resist. If someone's not in the mood to chat, sending too many followup questions will feel spammy, and your visitor will simply tune out. Always provide an option for the visitor to "just browse" while making sure they know how to reach you in live chat if they have any questions.
Ready to build your own chatbot with Custom Bots? Get started right here.
Already using Custom Bots? Check out this doc for instructions on building this in Intercom.
---
Competition bot – make lead capture fun!
Level: Advanced
Time to launch: 20 minutes
Impact: 🤖🤖🤖🤖
Ingredients:
You know those old school marketing emails where you'd be entered into a cruise competition if you hit 'reply' with your telephone number and address? The Competition bot functions in the same way, except it targets people on your website and works the competition in real-time (read: way more engaging).
Enterprise Bot – move high-value customers faster through the funnel
Level: Moderate
Time to launch: 10 minutes
Impact: 🤖🤖🤖🤖🤖¸
Ingredients:
Do your eyes light up when you see a big name like Apple show up in your pipeline, only to have 6 months and 15 touches go by with nothing to show for it? Too often, the bigger the account, the slower the sales cycle and longer the lead time between engagement.
It seems counterintuitive to put a chatbot in front of enterprise leads, but our Enterprise Chatbot can actually help you move them through the sales funnel faster.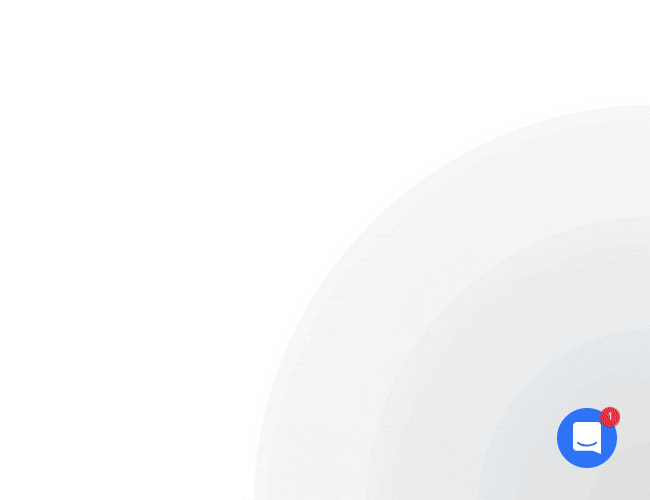 Source link https://www.intercom.com/blog/how-to-build-a-chatbot-six-recipes/